Dr.Ruwan Perera

Medical Officer- Health Information 1

Dr.Ravi Wickramarathna

Medical Officer- Health Information 2
The National Hospital of Sri Lanka (NHSL) is the largest teaching hospital in Sri Lanka and the final referral centre in the country consisting of 3500 patient beds with in-ward patient admissions of more than 250,000 per year. It is one of the busiest places in Colombo catering for over 5000 patients a day. The National Hospital features many finer specialties in Health care and most of these specialties are only available at NHSL. Almost all the medical, paramedical and other health administration related designations are present in the National Hospital. Cutting edge health technology is always present in the National Hospital but technology infrastructure, the technology that connects the care giver and the receiver needs to be upgraded.
The National Hospital Health Information management unit, manned by doctors with post graduate qualification in Health Informatics under the guidance of the Deputy Director General of National Hospital is working towards achieving this goal. There are many projects that would benefit the care recipients, care givers and the general public under this plan. This is aimed at short term, medium term and long term projects aimed at improving the infrastructure, knowledge and attitude of the hospital and its staff.
One objective of this strategy is to build on the information management capacity of the hospital. Already a Health Information Management Unit is established with required facilities to initiate and continue the plan. Further, either establishing or collaborating with already established Resource centre on Health Information will be done to provide the required resources for staff training on ICT. In-service Training on Health Information & ICT for the staff by Identification of training needs, Curriculum development and Training Activities will be done which will enhance the knowledge of the staff and change the attitude towards IT. We are further planning to Human Resources Development on ICT in the healthcare by this activity. A Hospital Data Repository will be established which will serve to centralize the hospital data.
Next objective of the strategy is to Improve Electronic Communication. A high speed wide area network (WAN) backbone will be designed and constructed covering all buildings of the hospital enabling expansion of the hospital network as required using Fibre Optics. This will be then connected with Local Area Networks, and necessary and supported devices within the hospital will be connected to this Local Area Network. Internet will be provided according to the need with central control considering the security of data and protecting the privacy of clients using the high speed WAN and LAN. Further, electronic communication will be promoted by issuing email addresses to all relevant stakeholders. One major activity under this objective will be to promote the National Hospital to serve as an information hub to the care recipients and stake holders by allowing multiple electronic means of accessing information. Already a hotline "1959" is operational where anyone can request information regarding services of the hospital, poison information and health education. This will be augmented by a web portal which allows not only information seeking but active information delivery using SMS and email. Later this system will connect with a centralized service registration system allowing people to be registered with hospital services easily.
Final objective is to provide coordinated care to recipients using ICT solutions as the basis for coordination. This will be achieved by a sophisticated centralized repository of patient information. This system will consist of Laboratory Management Information System (LMIS), Radiology Management Information System (RMIS), Pharmacy Management Information System with Pharmacological Inventory and Electronic Medical Record (EMR).
The vision of the Health Information Management Unit of the National Hospital is to deliver the essence of excellence of health care to the care recipients of our hospital.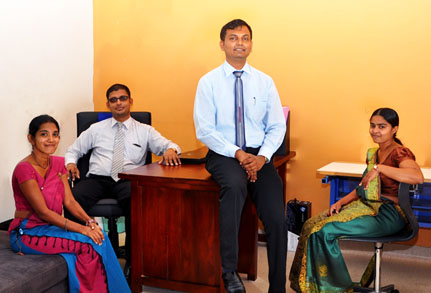 Health Information Management Unit Staff