Page 1 of 2
Patients who were seeking treatment following dog bites were screened at OPD.
They had to queue with the other patients until their turn and after the consultations some of them were directed to MRI for specialized opinion. On those occasions they had to find a mode of transport on their own and go there and come back again to NHSL for treatment.
Some were admitted to the medical wards for immunoglobulin and had to wait for hours to get treatment. Medical wards which are already burdened with various medical emergencies were unable to give priority to Rabies post exposure patients were unable to prioritize.
So called lucky ones with negative skin test for the available horse serum, received serum at wards after long waiting and had to go back to the OPD injection room for the next step of treatment (ARV on following day).
Some who were fed-up after long stay in ward did not ever visited OPD for ARV and even developed rabies and died.
Patients who were tested allergic to available horse serum had to be in the ward until expensive human immunoglobulin was purchased. It took even several days and some left against medical advice.
At the OPD with various medical conditions and enormous number of patients rabies victims also had to go to injection room doctor for ARV injection.
There was no way to track a patient after leaving medical ward or injection room because only record which was available was injection room ARV book which had only name and age of the patient.
Patients defaulted at every level from the moment they came to OPD at the very beginning.
On March 2005 a Medical Officer who worked as a senior house officer to ward 55 (Medical Ward), prepared and forwarded a proposal for creating a separate Rabies Post Exposure Treatment Unit to the Director of the National Hospital of Sri Lanka which was sent to the Medical Research Institute (MRI) and the Director general of Health Services and was approved after several discussions.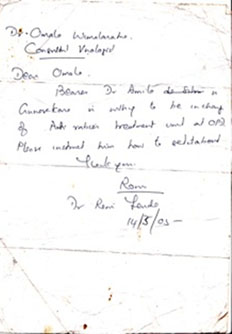 The first request made to the initiation of the Rabies Treatment Unit of the NHSL.
Finding a room was an uphill task and many were of the opinion that establishing a unit of this nature in OPD will lead to greater problems.
A room which was used for Anti-Rabies Vaccinations and staff room were selected for this purpose.
The biggest issue was to attend repairs when the room was functioning form 8.00 am to 6.00 pm.
Floor tiling, painting and celling repairs had to be done in the night time. Furniture was provided with the help of a well-wisher.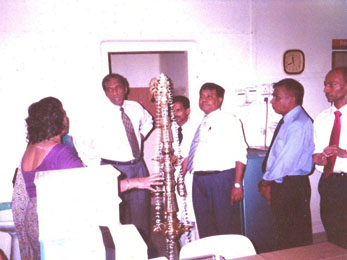 On 09/04/2005 Rabies unit was opened officially by Dr Hector Weerasinghe (Director NHSL during that period) and Dr Rani Fernando (Deputy Director during that period).