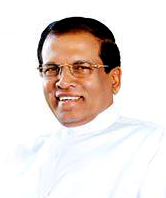 His Excellency Maithripala Sirisena
President Democratic Socialist Republic of Sri Lanka
The National Hospital of Sri Lanka is truly deserving of this message of felicitation and encouragement on this 150th Anniversary of service to the people of Sri Lanka.
What is today the largest hospital in South Asia, and the best equipped in personnel and facilities in this country, began as a 100 bed unit in the Pettah in 1861 and was moved to its present location in 1864, from which time it has made remarkable progress in every aspect of patient care, from diagnosis to treatment and healing.
Among the many landmarks of importance in the eventful history of the National Hospital are the establishing of the Colombo Medical Faculty in 1870 and the Nursing School in 1878, both of which have contributed immensely to the progress of health services in the country.
The service provided to both Inpatients & Outpatients through all these years has been steadily improved to meet the best standards of medical care, with the wide range of special clinical, medical, surgical, post-surgical and other services that enable the quality of service provided by the best of professionals.
From the days of colonial administration to Independence and thereafter, the National Hospital has an exemplary record in expansion to cover the diverse fields of therapeutic services provided, with attention to the highest standards of medical care, and is today the unquestioned centre of the best medical care in the country.
As we mark this important anniversary of service in medicine and healthcare, it is necessary to recall and express our gratitude to the many philanthropists who have donated buildings, equipment and other facilities for the success of this centre of healing. We must also express similar gratitude to the many Superintendents and Directors who have contributed immensely to making this the premier healthcare facility in the country today.
The commitment of my government to the progress of health services has given importance to the further development of the National Hospital of Sri Lanka. Among the proposed developments are the construction of a new fully facilitated OPD Complex, and completion of work on the proposed Epilepsy and Dental Services buildings.
I take this occasion to commend the professional and other staff of the National Hospital of Sri Lanka for their dedicated service to the people, and wish this National Centre of medical care continued success in the future.